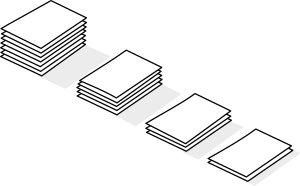 Update – Going Paperless
Thought I'd pass along a few things I've learned or deciding to do regarding going paperless.  Last December I wrote a long blog post regarding the topic. After using a system for the past few months I've narrowed down a few points.
The company I work at part time needed a scanner so we split the cost.  We decided on an Epson WorkForce DS-560 Wireless  which is a mid priced model.  It saves documents and photos to several different formats. It's very fast and can sheet feed a lot of documents at once.  Best of all it does an amazing job of scanning photos which saved the cost of sending our photos out to a scanning service.
We already owned a handheld scanner.  This works well for items that cannot fit in our sheet feed scanner and I'm hoping to take it on the road with us rather than hauling around the larger scanner.
Even better than using the small handheld scanner has been the use of cell phone application CamScanner . This is an amazing app that allows editing to include cleaning up a scanned document and has automatic features. The scanned images are saved to cloud storage which I downloaded to a computer to save on disc.
I've been using our desktop computer but everything works equally well using our Microsoft Surface Tablets .  I've been saving everything on an external one terabyte hard drive. And making backup copies to high quality CDs.  I'm giving copies of the CDs to others for safekeeping.  Our tax accountant helped out with advise on how to handle tax records. I've also been emailing photos to family members for their enjoyment.
Here is the shredder we own. It's solid at a good price. However, I'd wear out the shredder if I tried to shred everything. We live on a few acres so are able to burn documents. If you have a ton of documents to go through I'd suggest having a better way of disposing of them after scanning than to just use a shredder.
The process is working well.  I have two boxes next to the scanner.  One box is for documents to be burnt or shredded.  The second box is where I put documents I plan to throw in the recycle box. I've paid bills online for awhile but still have very few that I've switched over to receiving them electronically rather than in the mail. That will change as we get closer to going fulltime in an RV. I don't trust having bill payments automatically taken out of our bank account so I don't do that. I also keep a folder for the few original documents, such as social security cards and hard to replace items such as my military DD214 form.  One big thing was scanning the college diploma and then shredding the original.  For me, this represented a way of not looking back.
Mark from Missouri
Here is a short list of additional things I've learned during the process of scanning and shredding:
Staples suck.
Sort stuff in piles before starting. Our scanner does multiple pages, front to back, at a time. So one file can contain several related documents.
Camscan worked great for those thick greeting cards.
I setup a file system on the computer to keep future paperless items such as downloads for bank statements and owners manuals. I downloaded a few thicker owners manuals from the internet rather than scanning what I have.
The hard drive I own can be put on a network to access from any computer.
Need to start having bills sent to my email. Bank also offers to send receipts via emails for ATM transactions which I'm now using.
Every time I hit the print button I'm thinking "how can I do this paperless."
Went with seven year retention of business documents.  For personal tax documents I'm going with 7 years although 3 years would work and max of 6 if underreported more than 25% of income, which I have not.  Anyway, scanning every year and storing results is no big deal.
The scanner I bought handles those thin store receipts very well.
I'm using a standardized list of folders and subfolders when saving documents.  I'm sorting some stuff under subfolders by month for some documents to make them easier to find. This also saves the need to change file names.
So far I've found little reason to convert scans to a word document although I keep my eyes open for documents that are good candidates such as genealogy items.