How We Decided to Archive Photos and Documents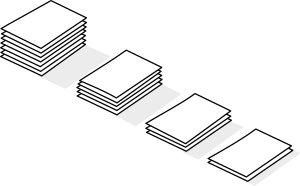 Paperless
A quick warning is in order.  I'm not a technical writer nor have I studied every viable alternative to this process. I have kept up on computer related technology in general which is somewhat of a hobby.   (Update) After using a system for a few months I wrote a blog post – Here is a link –
Feel free to advance towards the end of this post for the summary!
What Was Considered During This Process
 I hoped there was no need to reinvent the wheel if I relied on the opinions of others. I tried to use whatever existing equipment and software I already owned. While remaining aware of a need to look forward to the future. I believe converting to paperless documents is something we should begin now rather than waiting for the year we go full-time in an RV. Here are a few considerations I started with:
IRS rules for records retention. IRS Procedure 97-22 (have fun reading this one). You will have to review the rules and make your own decision.
Do we have to add equipment or software to supplement what we already own?
What is everyone else doing?
What needs to be archived, burnt or shredded and what is the best process to do it?
Long term, viable storage with backup is most important. Online storage vs media such as hard drives and discs .
A process that is easy for future document scanning.
Would it be better to purchase a scanner or pay for the service for one time photo archiving?
Bulk paper documents require higher speed scanners capable of multi page scans.
Do we want the ability to scan into a searchable document.
Speed of scanning compared to portability.
Are some documents more readily photographed than scanned? And if so, would the file size be manageable?
Phone apps and other technology we could make use of.
Portability is not that critical to us as we are not planning to travel for a while.
What are Others Doing?
As I surfed the internet I actually had a hard time finding any one article that said it all.  Here are a few ideas from folks I trust to have done their homework.
Larry's Email Regarding Going Paperless
Geeks on Tour and Usage of Picasa for Sharing Photos
Can I use Devises we Already Own?
I also had to consider any on-going cost of using cloud storage such as Dropbox.
 We own a handheld scanner. They work perfect for the intended purpose. It scans in color, up to 600 dpi and into JPG or PDF files.  It's great for scanning items that don't fit in a flatbed scanner. Frankly if I were living fulltime in an RV and only had occasional scans this would be my go-to devise. 
We have a Brother MSF7840 all-in one printer. It has wireless printing and is equipped with both flatbed and sheetfed scanning. Scanning takes about as long as an average photocopy and scanning software came with it.  I'm not that familiar with the enter- workings of the scanner but am concerned it might be damaged by prolonged scanning. I'll give this a try for photos.
  Karen and I both use Windows phones.  My cousin, the expert, suggested using the  CamScanner app which is available for other operating systems as well.
  As of 2014 we still own a desk top computer and have switched from laptop usage to fancy tablets.  We prefer Microsoft Surface Tablets. Our tablets also support micro sd cards – we buy mostly class 10 cards. We own a mobile external CD/DVD drive that attaches to a USB port on the tablet. Combined with our Microsoft Office software subscription and what comes free with the tablets, we have a sizable amount of cloud storage through Microsoft.
We own an external one terabyte hard drive. This hangs off our home network consisting of two desktops, two tablets and other wireless devises.  However, it can be moved to any stand alone devise. Like everything else, the technology is rapidly evolving.  I trust these hard drives more than using flash memory like sd cards and thumb drives which in my opinion have a higher failure rate (as of 2014).
Here is the shredder we own. It's solid at a good price. We also have a burn pile!
Summary – This is Our Plan  as of 2014
For our initial move to becoming paperless, we will sort documents out, burning or shredding what we are not keeping.  We will place what is to be scanned into a box allowing us to scan several items when we get around to it.  We decided to dispose of the documents now even though we are not hitting the road for years.  It's another downsizing project we will not have to do later.
We decided going with the least cost approach for everything was not going to work. We felt some of the technology we already own would make the process cumbersome in some cases.
We are using our existing one terabyte external hard drive for mass storage as long as it has space.

We are going to backup to quality CDs or DVDs which, as of 2014, can readily handle up to 8.5 gigs of data at a reasonable price. Blue-ray have even higher capacity.

We will give a copy of our discs to our daughter in case of a catastrophic loss. Although it's not an issue right now, I suspect we can mail copies to her from the road or use more cloud storage.
We are not going to make use of a safe deposit box because that cost money. Perhaps later we may decide to use a box for long-term storage of valuables when we hit the road. I've not researched the cost of a safe deposit box.
Regarding our document and photo scanning needs: I decided not to use our existing all-in-one laser printer for any intense scanning because I was worried about straining the components.

For Documents: We purchased an Epson WorkForce DS-560 Wireless as a dedicated scanner.

I justified part of the cost by deciding not to have our photos scanned by a service which would have cost about $275.
I researched the various technologies and decided what features were must haves. This likely will not be the scanner we own once we retire to an RV.  I might have gone with a Fujitsu ScanSnap S1300i  or similar if we were traveling or did not have years worth of papers to go through.
I narrowed down the search for a high speed sheetfed scanner by searching Amazon and moving ones I was considering into my wish list box, then deleting them one by one till I came to a final decision. Then I price shopped – works for me anyway.

I hacked through all the reviews I could find to reduce the buying decision down to three models. I eventually narrowed the search between two scanners and compared the technical specifications.

For Photos: We are going to ask around and borrow a photo scanner as we only have to use it for a one-time project. Again, I'll try our existing all-in-one flatbed as well.

A flatbed scanner appears to be a better solution for photos.
We did not have any photo negatives or slides to scan. Resolution is important if we ever decide to enlarge a scanned photo.
The best I could find online with a scanning service was 22 cents for each photo at 600 dpi.
Other Notes
Software came with the document scanner and we made sure we had the capability of selecting the file type, such as PDFs for multiple page scans. Make sure you check YouTube reviews of various scanners to verify the software is efficient.  Some machines scan fast but the software is slow in processing the images.
Searchable documents yes or no?  I did not worry much about it as we couldn't do it when documents were in a file cabinet either. I save items by category type in sub-folders on a disc/hard drive. The better scanners and software come with optical character recognition anyway.
I'm using CamScanner for a smartphone app. This technology is very cool.
Items that cannot run though a scanner are a perfect fit for the existing handheld scanner or CamScanner.
Had we decided to store items in the cloud or need regular computer backup I would have considered Crashplan.
Of course, there are original documents such as social security cards, notarized items and more that have to be retained. I'll decide later on purchasing a fire safe nor not.
For now we are concentrating on scanning our photos into folders.  I may research methods to organize photos for sharing, such as using Picasa or Photobucket, after we get them scanned.
Don't forget to print new documents to a PDF file rather than to your printer to avoid having to scan them later.
We use online banking to pay bills.  I prefer to enter the bills to be paid rather than having automatic payments. I still receive paper statements.  When I go to online statements I'll download them because the bank has a limit on how many months in the past can be viewed.
I'm researching different places to sign-up to stop junk mail. My dad used to take the included postage paid return envelopes and put a bunch of metal washers inside and send it back.  I'm sure the Post Office did not appreciate it, nor did the person paying the returned postage! I'll bet they got the message he did not want their irrelevant mail!  Think I'll pass on that method.
I've started downloading user manuals in a PDF format.  When you scan the receipt for big ticket items make sure you write the serial number on the receipt in case of theft – the police will appreciate it. And take a photo.  I've gone as far as to engrave my social security number on some items. If the police find your stolen items the courts will require proof it's yours.  If they have the serial number the police can enter it into the national system of stolen property in case a cop (constable on patrol) runs the serial number through the computer.
I'm sure we will find more unique ways to cut out most of the paper. I'll update this postings later with new ideas.
No doubt technology will change before we hit the road. As a side note, I am using the Password Padlock app on my Windows phone to store passwords and user names.  Of course the same is available for Apple and Android devises. Passwords are stored in Microsoft One Drive so I can access them from a desktop computer, tablet or phone. Most cloud storage services offer limited free space if you want to give it a try and you have reasonable internet access.
Have you found unique ways to digitize your documents?